A-Y-P Expo
Large Ensemble
Greg Wiliamson's A-Y-P Large Ensemble
Jazz Music for Seattle's 1909 AYP Expo

A mash-up and jazz improvisation of music written for, and performed at Seattle's "First World's Fair" - the 1909 Alaska-Yukon-Pacific Exposition. Including the newly uncovered "Gloria Washington March" theme song written by AYP Bandmaster Fr. Innes in 1909; and marches, vocal songs like "Meet Me In Seattle." Collaged, contrasted and culminating with modern big band classics by Basie, Ellington and Seattle's own Quincy Jones. All of this in front of compelling slides and films of the 1909 Expo. Featuring an All-Star cast of musicians with a fun sense of artistic expression.
"This is sick, it's like changing the radio dial from 1909 to 2009. You're a twisted puppy. Thanks." - Dan Marcus, trombone
Conversations & Deconstructions by this ensemble was nominated "Earshot Golden Ear Award Concert of the Year"

=============
AYP Expo Jazz Music to air on radio "Jazz Northwest"
FM 88.5 KPLU and kplu.org
Sunday, March 7 at 1 PM Pacific Time
A concert mash-up celebrating the Centennial of the first Seattle World's Fair, the 1909 A-Y-P Exposition is featured on the next Jazz Northwest. Highlights from the concert premiere will air on 88.5 KPLU and kplu.org.
This concert was recorded at the premiere performance at the Triple Door during the 2009 Earshot Jazz Festival. The music was recently given a second performance at the 2010 Golden Ear Awards also at the Triple Door.
Jazz Northwest is recorded and produced exclusively for 88.5 KPLU and kplu.org. The program airs on Sundays at 1 PM Pacific Time and a podcast is available after the airdate from kplu.org.
More info at kplu.org/wilke.
=============
ENCORE PERFORMANCE
Earshot Golden Ear Awards
Monday, February 10, 2010. 7pm
Triple Door, Seattle
=============
• October 29, "Seattle Presents" @ City Hall, noon - 1:00
700 5th Ave (@ Cherry St), Seattle, WA
Free
• November 4, The Triple Door, 7:00 - 8:00
216 Union Street, Seattle
$18/$16 tickets
more info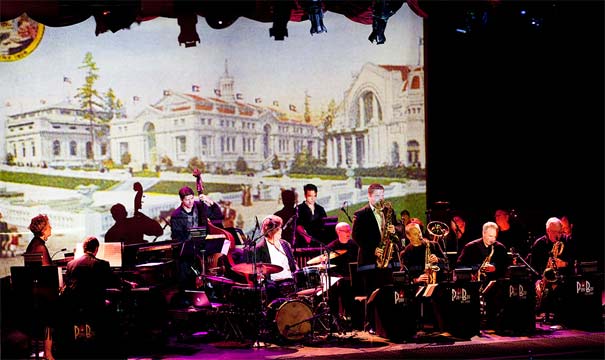 Photo from Daniel Sheehan's "EyeShot" Blog

This event was part of the Alaska-Yukon-Pacific Exhibition Centennial Celebration. Learn about other AYPE Centennial Events at aype100.org.
Tracy Knoop, alto, clarinet, picc
Travis Ranney, tenor, soprano sax
Alexey Nikolaev, tenor sax
Bill Ramsay, bari sax
Dan Marcus, trb, double bell euphonium & tuba
Dave Marriott, trb, low brass
Thomas Marriott, trp
Jay Thomas, trp
Al Keith, trp
Andy Omdahl, trp
John Hansen, piano
Jon Hamar, bass
Chris Monroe, xylophone, bells, vibraphone, percussion
Greg Williamson, drums
Greta Matassa, vocals

Preview the newly uncovered 1909 march theme song:
"Gloria Washington", written by Fredrick Innes, AYP Bandmaster.
=========
Pony Boy All-Star Big Band
A-Y-P Expo / Model T Rally
4Culture's Model-T Site
Video & Pics
INFORMATION RELEASE
Greg Williamson
greg@ponyboyrecords.com
ph/fax: 206.522.2210
The Pony Boy All-Star Big Band, under the direction of Greg Williamson, is excited to be a part of the Centennial Celebrations of Seattle's 1909 Alaska-Yukon-Pacific Exhibition. We will be performing for a welcoming of the Ocean-To-Ocean Model-T Auto Rally as they come through the town of Snoqualmie, recreating the 1909 cross-country race.
Friday, July 10, 2009
noon to 1:00p.m.
Meadowbrook Farm, Snoqualmie
1711 Boalch Ave, North Bend, WA 98045
The 16-piece Big Band will present marches and songs performed at and written especially for Seattle's 1909 Alaska-Yukon-Pacific Exhibition; complete with old instruments and dancers in period costumes. The 1909 music will be deconstructed and collaged into a modern jazz orchestra re-interpretation.
The Pony Boy All-Star Big Band has presented many "Sonic Sculpture" Performances:
http://www.ponyboyrecords.com/files/big_band/travelling-big-band.html
This performance is presented by 4Culture's Site-Specific Program and the City of Snoqualmie.
A Salmon Bake lunch, catered by the Snoqualmie Nation Canoe Family, will be offered to the public at $10 per plate. Tickets are on sale at the North Bend City Hall and businesses throughout Snoqualmie and North Bend (cash only). For more information visit www.cityofsnoqualmie.org and click "Model T Rally" or call 425-749-6905.
Musical program includes:
Pieces performed in 1909 by Ellery's Band to 20,000 fans at the A-Y-P Natural Auditorium:
  Old Faithful March, A. Holzman (1907) - a current hit of the time
  William Tell Overture, Rossini (1829) - a crowd pleaser at the Expo
A-Y-P Expo Music:
  Gloria Washington, "The Official March of the A-Y-P Expo" (1909) by F.N. Innes, A-Y-P Bandmaster
  Are You Coming This Year To Seattle?, A. Snow (1909)
  A.Y.P. Exposition March, E Croom (1909)
1909 Favorites:
  The Fairest of the Fair, John Philips Sousa (1908)
  The Glory of the Yankee Navy, John Philips Sousa (1906)
  National Emblem March, E.E. Bagley (1906)
Morphing into collage musical sculptures of more recent jazz music:
  Things Ain't What They Used To Be, Duke Ellington
  In The Mood, Glenn Miller
  Soul Bossa Nova, by Seattle's Quincy Jones
Many thanks for research: ayp100.org, UW Library Digital Collections, UW Suzzallo/Allen Library A-Y-P Display, www.aype.org, HistoryLink.org, BandMusicpdf.org.
This event is part of the Alaska-Yukon-Pacific Exhibition Centennial Celebration. Learn about other AYPE Centennial Events at aype100.org.
http://www.4culture.org/
http://www.meadowbrookfarmpreserve.org/
Looking ahead, the Greg Williamson Large Ensemble will present new jazz compositions based around these same themes:
  Thursday, October 29, noon, Seattle Presents at City Hall (www.seattle.gov/seattlepresents)
  Wednesday, November 4, Earshot Jazz Festival @ Triple Door (www.earshot.org)