Raves and Reviews
---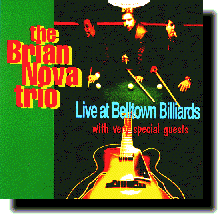 Live at Belltown Billiards
The Brian Nova Trio
The Rocket says "Like Herb Ellis, Wes Montgomery and Joe Pass before him, Nova is a smooth guitarist who tosses off fluid runs and melodic riffs like nobody's business...The band is swinging... the musicianship is hot and tasteful... Nova's got the goods..."
Cadence jazz magazine says "a sharp rhythm section and a snappy selection of tunes bound to make you tap your feet and wish you were there... Nova loves melody and hitting the right groove."
Seattle Post-Intelligencer says "Nova has succesfully anchored jazz nights [in] Seattle..." and his new CD has him "surrounded by local legends."
Tacoma's Choices magazine headlines "Super Nova" and exclaims "I can imagine the whole billiards hall standing silent when the trio performs... [his] guitar sends me everytime- - beautiful. "
Guitar legend Joe Pass said "Brian is one of the finest Jazz Guitarists on the scene..."
---
Back to Brian Nova's Home Page