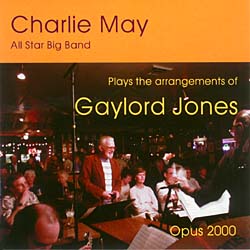 Charlie May
All-Star Big Band
Plays the arrangements
of Gaylord Jones

New Orleans tenor sax sound meets classic big band!
An originator of the style - Gaylord is chronicled in the
Seattle Jazz History "Jackson Street After Hours" as hot-jazz
pianist-arranger-bandleader going back to the late 30's.

"Riffette" was a hit in the early forties - rated as best
swing number of the 1940's by a Downbeat Magazine Poll.

PB50126-2

A native son of New Orleans, Charlie May cut his musical teeth on Bourbon Street, where he counts one of his first musical experiences as sitting on Louis Armstrong's knee as a youngster! He was on The Colgate Comedy Hour at the age of 16. He has played with both Al Hirt and Pete Fountain. He led his own band for many years in Las Vegas and Playboy Clubs around the world.

Gaylord Jones began one fo the first "hot jazz" groups in Seattle in the 1930's - His arrangement "Rifette" was a Downbeat winner for best of the 1940's.

This band has more also performed under the title:
Pony Boy All-Star Big Band More...

Click a link below for MP3 samples!
1. Rifette - & Rifette shout chorus mp3
2. Undecided
3. Fly Me To The Moon
4. Time After Time
5. But Beautiful - You Go To My Head - You Are Too Beautiful
6. Jeepers Creepers
7. Blue Skies
8. Gee Baby Ain't I Good
9. Don't Worry 'Bout Me - September In The Rain - Over The Rainbow
10.Mack The Knife
11. Always
12. Nearness Of You - I Only Have Eyes For You
13. Perdido
14. Stairway To The Stars - Makin' Believe - Easy To Remember
15. Another You
16. Man I Love - I'm Confessin'

---

Relaxing with
Charlie May
ballads on sax
'Relaxing With Charlie May' is just plain pretty.
-Nick Morrison, Morning Jazz Host, KPLU FM 88.5

This full-throttle, bust out the windows, honking,
growling, party-til-dawn Tenor saxophonist presents
a recording of all ballads and soft sax crooning.
1. Black Coffee 6:13
2. I'll Remember April* 3:35
3. Moonlight In Vermont 3:00
4. Sweet and Lovely 6:34
5. Summertime* 4:57
6. God Bless the Child* 5:42
7. Someone To Watch Over Me* 2:55
8. Willow Weep For Me 4:30
9. When Sunny Gets Blue 4:05
10. My One and Only Love 2:47
11. The Nearness of You 2:19
12. That's All 3:58

featuring arrangements
by Gaylord Jones

Charlie May tenor sax
Jack Perciful piano
Gaylord Jones* piano
Jay Roberts* guitar
John Vineet guitar
Larry Holloway bass
Greg Williamson drums

---
Back To Pony Boy Home Page