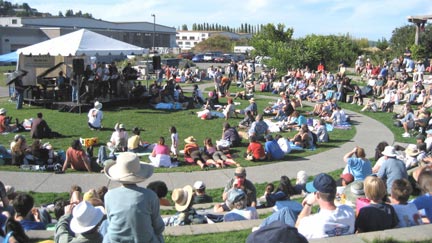 BRING A PICNIC - stop at one of our sponsors
on the way out to the park - or after the picnic!!

Sandpoint Way, on the way to the Jazz Picnic:
Varlamos Pizzeria, Sand Point Grill

or eat on-site from Dante's Inferno Dogs

PLEASE SUPPORT OUR 2012 SPONSORS:

SPONSOR-A-BAND SPONSORS:
Varlamos Pizzeria, 3617 NE 45th, Seattle
(206) 522-8515
Hiroshi's Restaurant & Catering www.hiroshis.com
Ann Babb/Chuck Cady RE/MAX NW www.chuckcady.com
Boxley's www.boxleysplace.com
Crescent Cymbals www.crescentcymbals.com
Wilde's Pianos www.wildespianos.com
Pro Piano Move www.propianomove.com
Seattle Office of Arts & Culture

SILVER SPONSORS:
Silver Platters www.silverplatters.com
Keep Posted www.keepposted.com
Sand Point Grill www.sandpointgrillseattle.com
MEDIA SPONSORS:
KPLU 88.5FM www.kplu.org
The Stranger www.thestranger.com
Earshot Jazz www.earshot.org

Seattle Jazz Scene www.seattlejazzscene.com
JAZZ FAN SPONSORS:
The Duchess Tavern
2827 NE 55th Street, Seattle (206) 527-8606
Real Time, Audio Duplication
www.realtimepip.com
Donn Bennett Drum Studio, Bellevue, WA
www.bennettdrums.com
Innervisions Posters & Frames
4548 University Way NE, Seattle
Top Pot Doughnuts Wedgwood
www.toppotdoughnuts.com
Sound Island Music - Bass & Guitar amps
stores.soundislandmusic.com


Turn into the park main entrance at 74th, follow the signs for Jazz Picnic and Parking.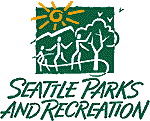 Sand Point Magnuson Park
details, directions, parking...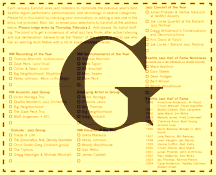 Pony Boy Records and the JAZZ PICNIC was awarded a 2006 Earshot Jazz GOLDEN EAR AWARD for "significant and enduring contributions to Seattle's Jazz Scene"
THE STRANGER, 2007 Preview
The Score: Jazz Icons
By Christopher DeLaurenti
Sun 9/9 PONY BOY RECORDS JAZZ PICNIC
"A boon for jazz fans with early bedtimes, this all-day minifestival
boasts a winning roster... join in the fun..".


SEATTLE TIMES
Pop music/Nightlife
Critics Pick: Pony Boy Records Jazz Picnic
"Always a great, feel-good jazz community event"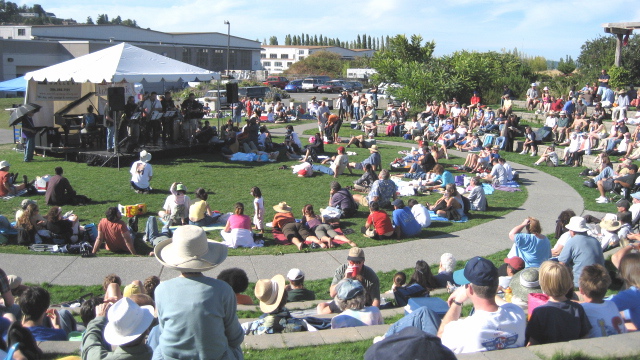 2006 Jazz Picnic Photo Gallery
2006 Jazz Picnic Media Kit

Stranger 2005 Preview