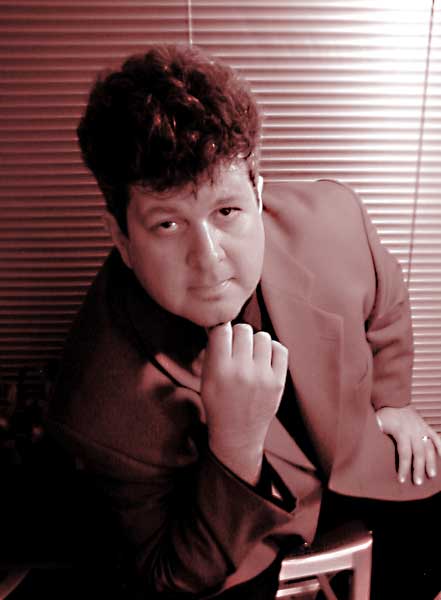 (click images for
larger pic)
BIO - The Short Version
Greg Williamson is a jazz drummer, percussionist, composer, musical instigator, and keeper of a jazz flame. Early musical highlights include stints with Woody Herman's Young Thundering Herd (1988-89), The Glenn Miller Orchestra (1988) and The Harry James Orchestra. He toured many times with Steve Allen's re-creation of the Tonight Show alongside classic entertainers like singers Joe Williams and Rosemary Clooney, pianist Paul Smith, comedians Louis Nye and Bill "Jose Jimenez" Dana, and others. Through the 1990's Greg was seen often onstage leading and contracting with icons like Don Rickles, Bob Newhart, and Joan Rivers; and as a regular member of jazz vocal icon Ernestine Anderson.
Williamson's early influences included Count Basie and Thelonious Monk. Personal mentorships with jazz hero's like Ray Brown, Mel Lewis, Buddy Catlett, Jeff Hamilton, John Clayton and Red Kelley set him up for a long association with Grammy nominated vocalist Ernestine Anderson. Starting as her drummer of choice for many tours of the United States, Japan and South America, he eventually acted as her musical director.
Mid 1990's also saw the formation of Pony Boy Records, an independent record label made up of straight ahead jazz artists with a Northwest focus. PBR has over 60 releases to date, including CD's by Williamson's Big Bad Groove Society, GW Quartet, Pony Boy All-Star Big Band, Double Sax Quintet (listed in the Jazz Times Year in Review Critics Picks 2002), and many more. PBR is distributed worldwide by Burnside Distribution. Williamson produced the annual Pony Boy Records Jazz Picnic for 10 years, which won awards for contributions to the community by Earshot Jazz, and whose t-shirts still adorn the fans and musicians of the Northwest.
Williamson has been instrumental in the creation of a non-profit performance and education venue in North Bend, Washington, Boxley's and the Boxley's Music Fund – along with satellite venues, now collectively called JazzClubsNW. The non-profit venture has partnered with many community members, producing Jazz Walks, festivals, public concerts, and live recordings – including Live at Boxley's with the Danny Kolke Trio + Pete Christlieb.
Williamson has also been an active educator and clinician, working at Green River College and Bellevue College, and recently at the highly regarded Central Washington University as a graduate jazz and percussion assistant, gaining masters degrees in Percussion Performance and Jazz Pedagaogy.
HISTORY - the long version
Greg Williamson began playing drums and piano at an early age, listening to the record collection of his parents, always returning to that curious double live LP by Thelonious Monk. His mother still takes credit for bringing him - at an age less than one year - to concerts of Duke Ellington and Louis Armstrong in 1965. By the time he hit high school, ha had won several college festival awards. In 1986 he gained a degree in jazz studies from Western Washington University, also studying classical percussion & composition. During this time he played many musicals, big band shows, local gigs, and was principal percussion, timpanist and clinician with the Seattle Youth Symphony.
Woody Herman's Thundering Herd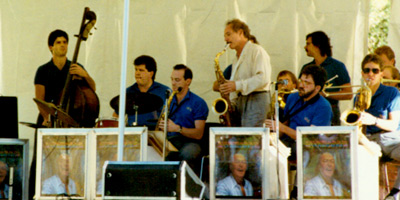 Woody, Glenn & Harry
While in college, he also began hanging out and mentoring with jazz drummers Jeff Hamilton and Mel Lewis - and bassists John Clayton and Ray Brown, soaking up the lineage of jazz. Relocating to Los Angeles, he was very quickly touring with the Glenn Miller Orchestra, then Woody Herman's Young Thundering Herd, and then the Harry James Orchestra. Greg counts these years of road band experience and performing behind guest artists as priceless and immeasurable. Wonderful people like Rosemary Clooney, The Mills Brothers, Anita O'Day, Helen Forest, Helen O'Connell, Art Lund, and others.
Big Bad Groove @ Jazz Alley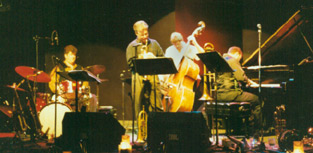 Seattle & Big Bad Groove
In 1990 he returned to Seattle as a home base, and continued to do occasional tours while bursting into the fertile Seattle music scene. He began groups of his own, drawing on some of the fine musicians from his road band associations. The Big Bad Groove Society is a sextet with flexible horn instrumentation for which he also writes and arranges, tapping into the big band sound with a small group flexibility. The group included friend and Ernestine Anderson pianist Larry Fuller (later to join Jeff Hamilton's Trio & Ray Brown's Trio).
w/ Ernestine @ Concord Jazz Festival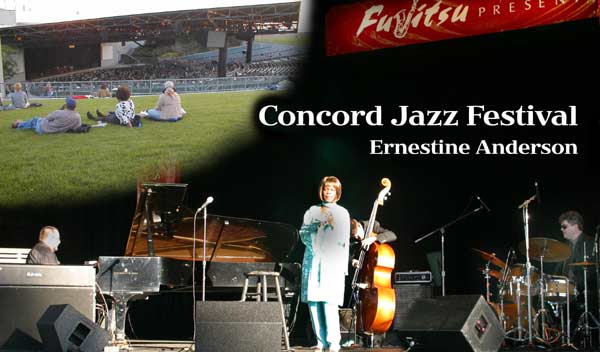 Ernestine & Steve-a-rino
He also began performing, touring and recording with jazz singer, Downbeat Poll winner, and Grammy nominated vocalist Ernestine Anderson. Still working with Ernestine, he has toured Japan numerous times, Brazil, and all around the US . Several years later he also began working with legendary pianist and funnyman Steve Allen, doing night club dates, big band shows, Las Vegas showrooms, and a revival of the original "Tonight Show" - a touring ensemble including Louis Nye and Bill "Jose Jimenez" Dana, working with the great pianist Paul Smith, a veteran of Ella Fitzgerald, CBS Orchestra, and many others. This again gave more opportunities for performing with the great stars of jazz, swing, and film. Joe Williams, Steve & Edie, Buddy Grecco, and more. His collective "played with" list is extensive.
Jazz Times Year in Review
Critics Picks 2002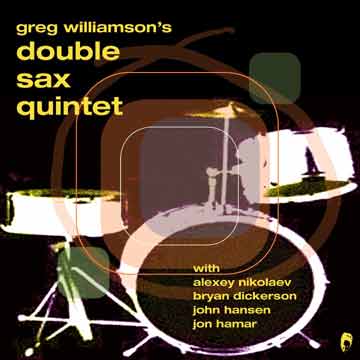 Pony Boy Records
The release of a Big Bad Groove Society recording in 1994 saw the formation of Pony Boy Records, an affable moniker for promotion and distribution. The title "Live at Kellys" became the first of many live recordings at the home club of bassist and raconteur Red Kelly. Red became a personal link to many of the characters of 50's big bands' heyday - the same big bands which Greg had played 30 years later.

Pony Boy Records, a label for the fun of jazz, became immediately popular. With other musicians of like mind wanting to be part of the "stable of artists", Pony Boy has grown to more than 30 releases, including Williamson's highly regarded "Swing Your Big Head" enhanced-CD, and his new "Double Sax Quintet" - listed in the Jazz Times Year in Review Critics Picks 2002 (Top Ten - Harvey Siders). He also leads the highly stabled Pony Boy All-Star Big Band.

Greg's development of skills in graphic arts, promotion, and digital audio recording/mastering has allowed Pony Boy Records to help jazz artists with the tools of music. Live performance is the target of the effort - promoting concerts, tours and gigs.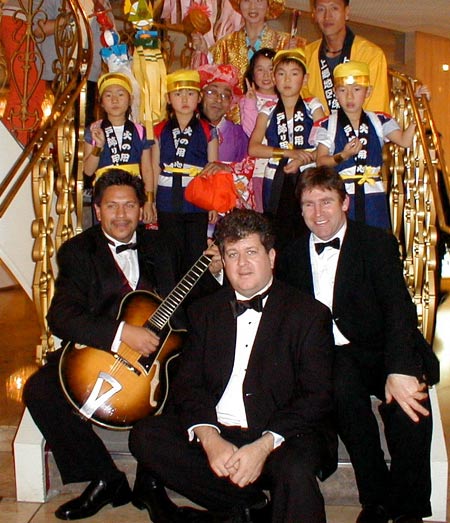 Play Jazz - Tour - Swing Hard
Greg played many yearswith Brian Nova, a swinging guitarist and protégé of jazz legends Herb Ellis and Joe Pass. This group toured extensively, including month-long annual trips through Japan. The group performed with other great artists, including rock and blues superstar Steve Miller. Greg also spent several years with Sinatra-style wise guy HB Radke, performing for swooning swing-dancers, national sports crowds, and even as a personality on national shock-jock radio. Altogether Greg has appeared on more than 40 CDs, and can often be heard backing up a variety singers and jazzers up and down the west coast.
IAJE w/Jeff Hamilton & Rich Thompson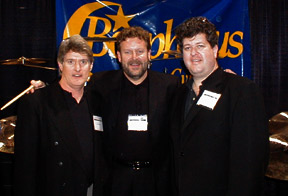 Jazz Education
Greg has continued to teach drums and jazz privately and in clinics, focusing on musicality and the lineage of big band and jazz. His technique is relaxed and natural, bouncing the stick to get a warmth of sound from good instruments, digging on time and feel. He draws from stories and experience of drummers and musicians before him - and draws comparisons to some classical technique.

He participated in the 2002 International Association of Jazz Educaters Convention and coached the National Community College Jazz Ensemble rhythm section. Recently he has been an active meber of JEN and NAfME. He enjoys clinics and rehearsing school groups; imparting his sense of joy of music to students; and the drive, dance, and texture available to performers of all kinds.
Playing Cymbals in Tokyo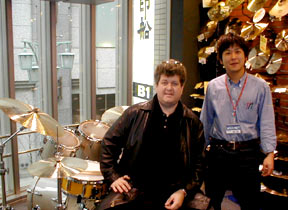 Toolbox
Greg Williamson endorses and plays Garcia snare drums. He is an artist for Cymbal Masters' Crescent Cymbals, the company formerly behind Bosphorus Cymbals (Hammer & Master Series). He also uses several different Gretsch drum sets, vintage 1980's with DW hardware. Moving from calf-skin heads, he now employs several Remo variations. Sticks and brushes from RegalTip (Hamilton and Elvin), and Hinger Timpani mallets. He uses Digidesign Pro Tools on the road and in the studio, with Waves plug-ins, as well as many Macintosh hardware products.
e-mail: greg@ponyboyrecords.com
Jazz Educators say nice things:
"A wonderful, knowledgeable clinician, a pleasure to work with... excellent results from his rhythm section work with IAJE's National Community College Jazz Ensemble."
- Doug Reid - Director IAJE CCJE, Shoreline CC
"Greg has an extensive background and knowledge in big band drumming and is able to communicate it to younger rhythm section players. Very professional and enjoyable to work with."
- Susie Jones - Jazz Band Director, Mt. Hood CC
"Thanks for helping out my rhythm section, we did great in our last festival contest... a real thrill for the kids!"
- Greg Schroeder - Director Canyon Park School